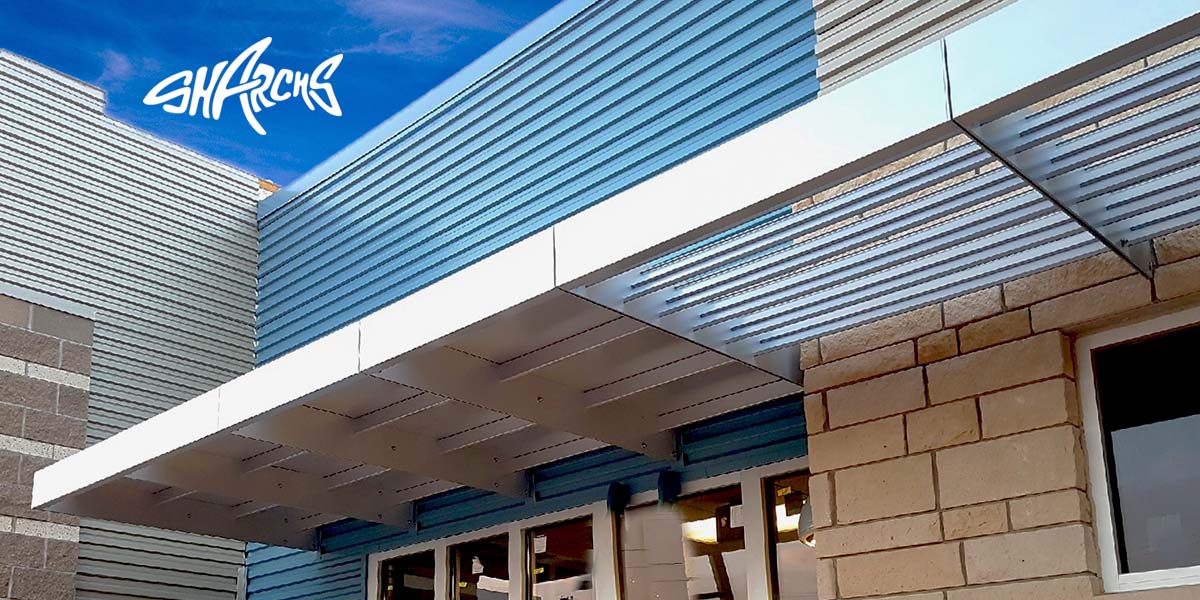 Sunshades offer a range of functional and aesthetic benefits, from blocking sunlight to elevating a building's design. Because there are many options on the market, choosing between prefabricated awnings and custom aluminum options can be a challenging task.
Take a look at how to choose between custom vs. prefabricated aluminum sunshades, and contact Sharchs Corporation for more assistance!
Exploring Aluminum Sunshades
Aluminum is a sunshade material known for its versatility and durability during summer and winter months. Let's explore what sunshades are and the use of aluminum in this long-lasting product.
Understanding the Basics
Sunshades are shields that prevent direct sunlight from shining through windows and doors. They are attached to the building's exterior and have many purposes, including:
Preventing direct sunlight and glare from entering windows and doors.
Keeping temperatures cool in a building.
Enhancing the features of a building.
Aluminum sunshades also come with many benefits:
Durable: Aluminum sunshades can withstand weather conditions, including rain and sunlight.
Long-lasting: These shades are resistant to rust and corrosion, even in harsh conditions.
Versatile: Aluminum is a customizable material that can yield a range of sunshade designs.
Minimal wear: Your aluminum sunshades will look great for years.
Are Custom Sunshades Worth It?
If your business windows have unique dimensions or you want a tailored solution, custom sunshades are definitely worth it. Custom sunshades are specially curated for your building, providing flexibility in designs, sizes and materials.
Sharchs Corporation provides custom aluminum sunshades that meet your company's needs. We use durable aluminum that is highly customizable to create unique designs and meet your custom specifications.
Different Types of Sunshades
Various types of aluminum sunshades are used on building exteriors:
Vertical aluminum sunshades: These shades protect buildings from low-angled sunlight. The blades are attached to the building vertically and are available in straight and tilted designs.
Cantilevered aluminum sunshades: These shades provide sun protection and add a unique look to a building. They do not use rods or hanging supports, which creates a modern and minimalistic look.
Hanger rod support aluminum sunshades: These sunshades suspend from the building using rods and supports. They extend outwards from the building exterior, providing shade for entryways and windows.
The Comparative Advantages of Custom and Prefabricated Aluminum Sunshades
It's important to consider the pros and cons when deciding between custom and prefab sunshades. Making an informed decision can prevent the risk of buying sunshades that do not fit your building.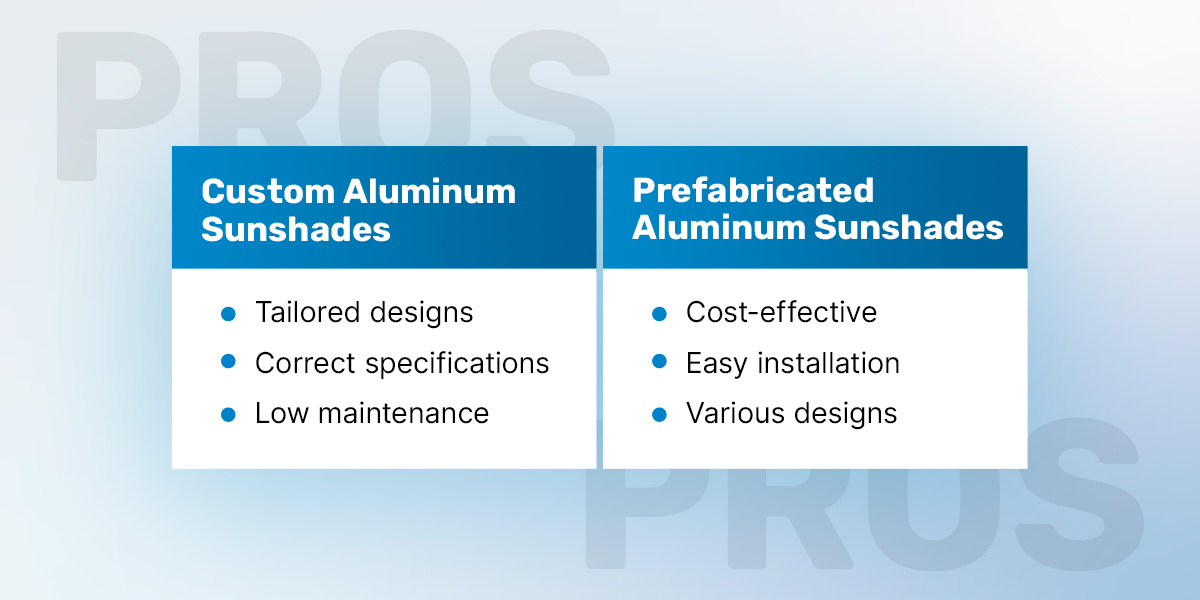 Pros and Cons of Custom Aluminum Sunshades
First, consider the advantages of custom aluminum sunshades:
Tailored designs: One-of-a-kind sunshades are designed to match a building's features and aesthetics.
Correct specifications: Custom aluminum sunshades will fit the precise measurements of your building.
Low maintenance: Aluminum requires minimal upkeep and is resistant to rust and corrosion. All they need is an occasional rinse to remove dirt.
Now, let's take a look at the potential drawbacks of custom aluminum sunshades:
Strong winds: Custom aluminum sunshades are often lightweight, meaning they could get damaged in the face of strong winds.
Durability: While stronger than fabric, aluminum is less durable than steel.
Pros and Cons of Prefabricated Aluminum Sunshades
Prefabricated aluminum sunshades offer another solution. Here are some advantages of prefabricated aluminum sunshades:
Cost-effective: Prefabricated aluminum sunshades are an affordable sunshade option.
Easy installation: Prefabricated aluminum sunshades offer an easy installation.
Various designs: There are many prefabricated aluminum sunshade designs to choose from. Sharchs Corporation offers prefabricated sunshades in cantilevered, vertical and hanger-rod designs.
Consider some of the potential drawbacks of prefabricated aluminum sunshades:
Risk of incorrect specifications: There is a chance that prefab metal awnings or sunshades won't fit your specific measurements.
Limited style choices: Prefabricated aluminum sunshades might not fit your building's design preferences.
Failed DIY installation: You can damage a prefab sunshade with DIY installation, which can shorten its life span and affect its look.
An Analysis of Cost, Quality and Functionality
The cost and quality of the sunshade can affect which one you choose. Consider the following when selecting the right sunshade for your business.
Cost Analysis
Many factors influence the price of aluminum sunshades. For example, custom aluminum sunshades cost less than steel. However, they can be more expensive than prefab sunshades due to customized specifications. You should also consider the costs of the installation, the size of the sunshade and the designs.
Quality and Functionality
The manufacturing and installation of custom and prefabricated aluminum sunshades might be different. However, they offer the same level of quality and functionality.
Both custom and prefabricated aluminum sunshades can:
Shade your building windows, entryways and walkways from sunlight.
Cool the temperature in a building, which limits the use of your air conditioning system.
Protect employees and clients from harmful UV rays.
Here are some qualities of custom and prefabricated aluminum sunshades:
Lightweight
Minimal maintenance and upkeep
Rust-resistance
Durability
Sustainable materials
Energy efficiency
Eye-catching finish
Choosing Between Custom and Prefabricated Aluminum Sunshades: Factors to Consider
The fine details can help you choose the perfect sunshade. Additional factors to consider before choosing a customized or prefabricated aluminum canopy include:
Building design: Take a look at your building's overall design and features. Consider whether your building has a traditional, modern or contemporary style. This will help you choose the sunshade type and style that complements your building.
Purpose: Determine why you want a sunshade. Do you want to protect your co-workers and clients from sunlight, or is the shade for decorative purposes? This will help you decide if you should focus on functionality or style.
Budget: Consider your budget for the entire project, including materials, design and installation. You will know what you are able to purchase and can avoid any delays or limitations along the way.
How Sharchs Corporation Can Help You Make the Right Choice
Sharchs Corporation will help you choose the right aluminum sunshade for your business. We work alongside a team of engineers, architects and installers to create custom and prefabricated awnings and sunshades that meet your specifications and style preferences. Our experts will consider all of your requirements and provide aluminum sunshades that align with your brand and building design.
Making the Right Choice for Your Building
Choosing between custom vs. prefabricated aluminum sunshades is no longer a challenge with Sharchs by your side. The right prefabricated metal awnings and custom metal awnings can elevate your building's features and make it stand out to customers and clients. We will help you make the right choice and provide expert assistance throughout the process.
Reach out to us to choose the right aluminum sunshade for your business. Complete an online contact form, and we will get back to you soon!