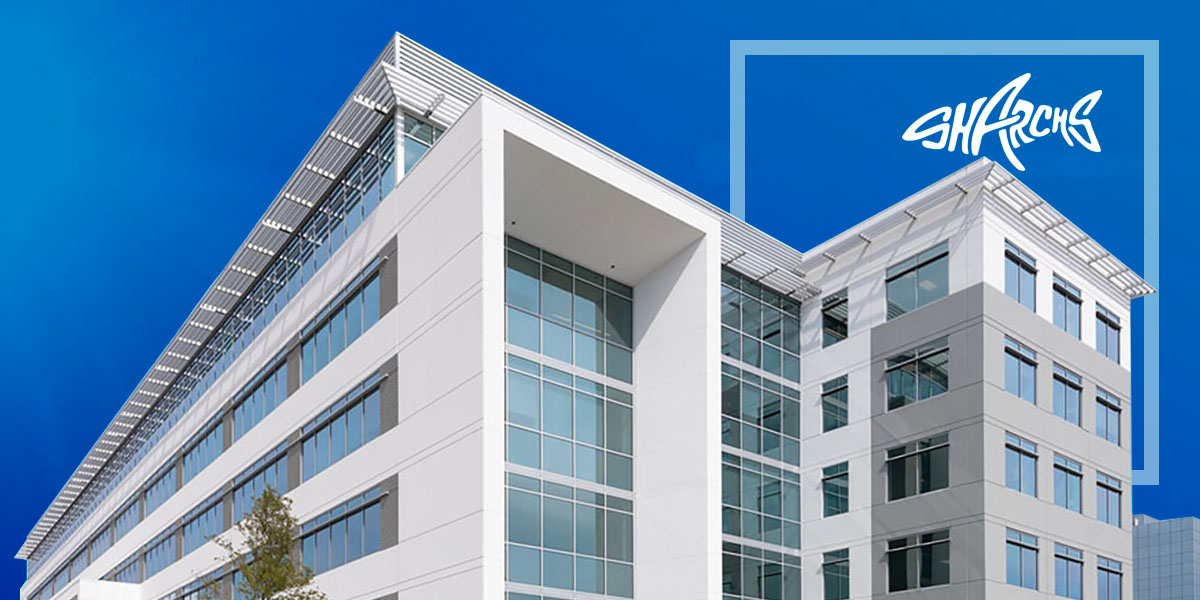 Do you want to add value to your business and property? Have you considered elevating your building space to increase market value and occupant satisfaction? With an aluminum trellis pergola, you can provide an appealing business and space all year round.
Aluminum pergolas can help you redesign your outdoor areas to get the most out of your business. They are assets that enhance your structural design and provide an excellent return on investment.
What Are Aluminum Trellis Pergolas?
Aluminum trellis pergolas are sturdy and versatile structures businesses use to shield their building from the elements or enhance their building's aesthetic. Trellis pergola structures combine the horizontal trellis design with the four-pillar pergola shade and walkway structure. Aluminum is a flexible and durable material, offering multifaceted and quality trellis pergola designs.
Businesses can install trellis pergolas in various outdoor spaces to create an entertainment or meditative area. The aluminum trellis provides beautiful aesthetics and a range of innovative features like automatic heating, wind protection, lighting and gutters for water drainage.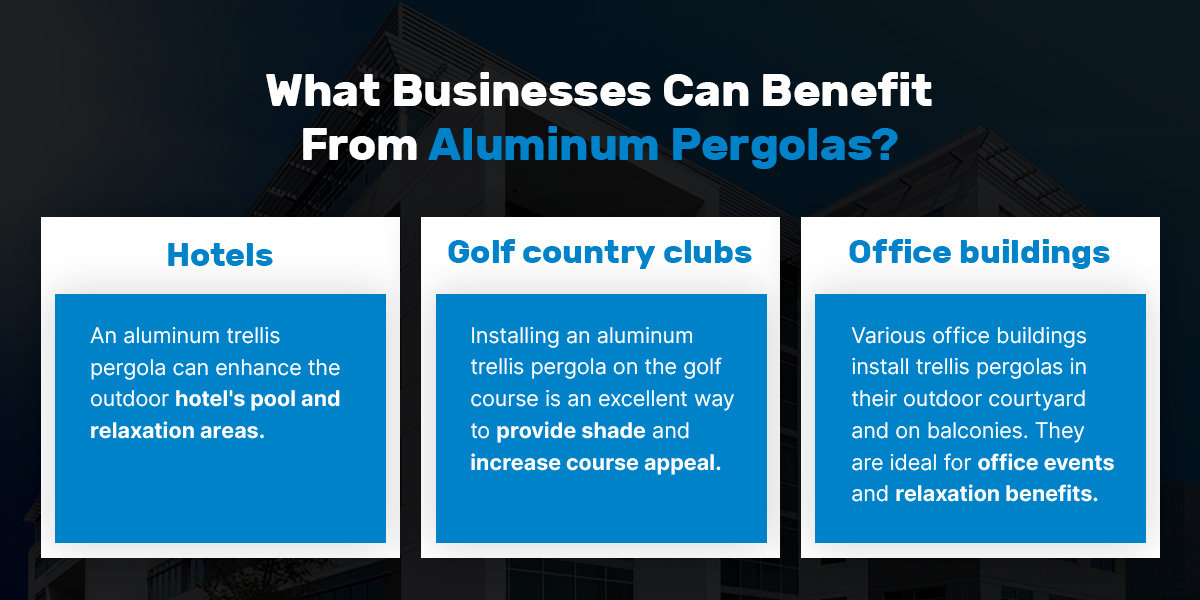 What Businesses Can Benefit From Aluminum Pergolas?
Your building is one of your most significant assets. You want to maximize your space to enhance your property value and customer and employee experience. Aluminum Pergolas are excellent features for getting the most out of your outdoors. They can provide numerous benefits for various businesses, like:
Hotels: An aluminum trellis pergola can enhance the outdoor hotel's pool and relaxation areas. With numerous sophisticated designs, aluminum pergolas can offer pool areas a luxury feel. They offer versatile and customizable designs to match various hotel styles and are excellent for providing suitable shade and ambient light around different areas. Aluminum pergolas are corrosion-resistant and can withstand humid and wet weather. They require little maintenance and keep their appeal for many years.
Golf country clubs: Installing an aluminum trellis pergola on the golf course is an excellent way to provide shade and increase course appeal. Aluminum pergolas can resist various weather conditions and wear. Golf country clubs can use aluminum trellis pergolas for creating elegant outdoor dining areas. Aluminum is also lightweight, making it easy to move the trellis pergola to various course areas.
Office buildings: Various office buildings install trellis pergolas in their outdoor courtyard and on balconies. They are ideal for office events and relaxation benefits. An aluminum pergola can elevate an office building's structural design and outdoor space. Aluminum is an eco-friendly and affordable material, so installing one in an outdoor office area can be cost-effective and enhance sustainability.
Benefits of Aluminum Trellis Pergolas
Aluminum trellis pergolas are ideal for various outdoor settings and are one of the best low-maintenance pergola roof materials. They offer businesses longevity and can be a cost-effective solution for renovating and enhancing outdoor areas. Other benefits of aluminum trellis pergolas include:
Durability: Aluminum is long-lasting and withstands the weather. They are corrosion-resistant and do not rust, rot or mold, requiring little to no maintenance compared to other materials. Aluminum trellis are affordable long-term investments that maintain their appeal for many years.
Lightweight: Moving an aluminum pergola to various building areas is convenient. Aluminum pergolas are lightweight compared to other materials and can be ideal for businesses that want to reposition their pergola frequently. They can be excellent solutions for maximizing space in smaller buildings.
Aesthetics: Aluminum pergolas offer various styles and colors. Businesses can customize them to fit multiple building designs. They can enhance buildings' outdoor and structural design, creating appealing entertainment and relaxation areas and increasing property value.
Versatility: Aluminum trellis can be bent and molded to various shapes and sizes and are adaptable to multiple building styles. Businesses can configure and customize them to match and elevate a building or space.
Eco-friendly: Aluminum is eco-friendly and recyclable. Aluminum trellis pergolas can be an energy-efficient addition to various buildings, saving money on energy bills. They can also be a great way to enhance a building's Leed score and contribute to a sustainable building. Aluminum can be recycled and repurposed to create more trellis pergolas.
How Do Aluminum Trellis Pergolas Compare to Other Options?
Are aluminum pergolas a good choice? One of the best ways to decide if an aluminum pergola is a suitable choice is by weighing the pros and cons of various pergola materials.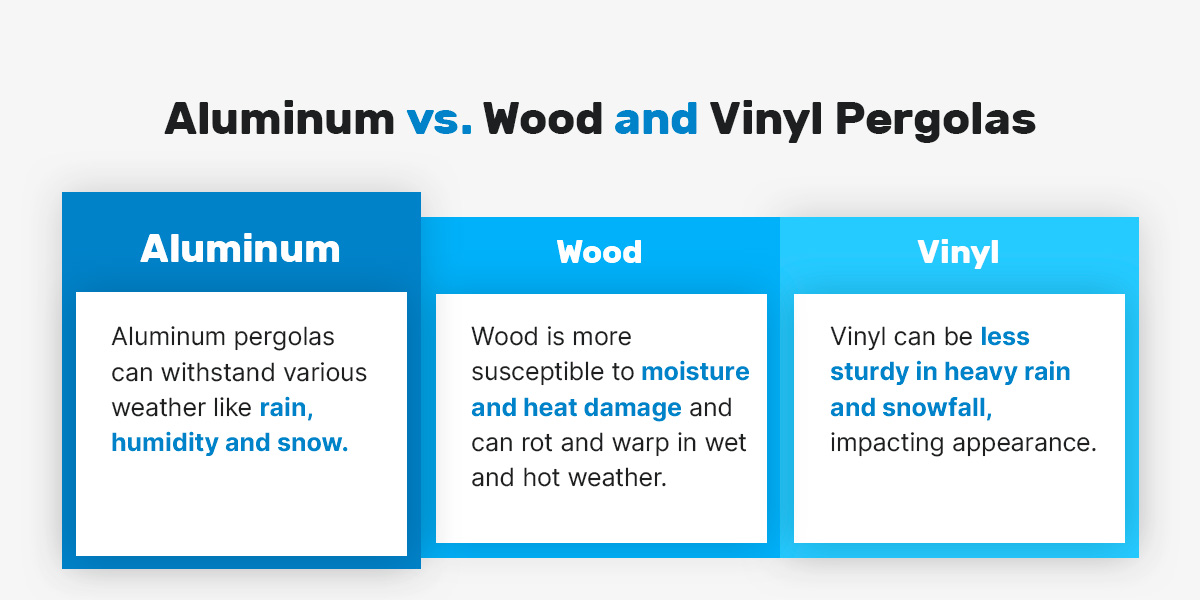 Aluminum vs. Wood and Vinyl Pergolas
Here's how aluminum measures up to other pergola materials:
Aluminum: Aluminum pergolas can withstand various weather like rain, humidity and snow. They're lightweight, making them easy to install and move. Aluminum pergolas are rust and corrosion-resistant and don't rot, mold, bend or wrap. They're naturally pest resistant. While aluminum can cost more than some materials, it's a low-maintenance and affordable long-term investment. That said, aluminum pergolas can get hot in summer, and the initial cost of aluminum is sometimes higher than other materials. Strong winds can also damage aluminum pergolas — a sturdy anchor system is essential.
Wood: Wood pergolas are rigid and can withstand strong winds. Various woods, like cedar and redwood, offer sleek and elegant designs and finishes. Wood pergolas are also highly customizable. Wood pergolas may be challenging to install, especially in high-rise buildings. Pests like termites and wood flies can also damage wood pergolas, and the structure can be tough to clean without specialized supplies. Wood pergolas require more maintenance, like repainting and staining, making them more expensive in the long term. Wood is also more susceptible to moisture and heat damage and can rot and warp in wet and hot weather.
Vinyl: Vinyl can be more durable than wood. It's customizable and offers various styles and designs while requiring little maintenance. Controlling sun and light exposure can be challenging, as vinyl pergolas have a fixed roof cover. Vinyl can be less sturdy in heavy rain and snowfall, impacting appearance.
Aluminum Pergolas vs. Other Patio Covers
Weighing the benefits and drawbacks of aluminum pergolas and other patio covers can help you decide on a suitable sunshade structure.
Aluminum Pergola Covers
Pros of aluminum pergola covers include:
Gutter systems on aluminum pergolas drain away rain and snow, preventing pooling and keeping your cover and space dry.
Aluminum pergolas can provide maximum shading against the sun while letting in natural light.
An aluminum pergola can come with screens to repel insects.
Wind sensors allow for automatic opening and closing, preventing wind damage.
Aluminum pergola covers offer automated roof features to help you control your sun, light and heat exposure.
Cons of aluminum pergola covers include:
Aluminum pergola cover components can detach and become a hazard in extreme weather conditions like wind storms.
Rain and debris from trees falling on aluminum covers can be noisy and distracting.
Patio Canopies
Pros of patio canopies include:
Patio canopies can be personalized to the size and shape of your choosing.
Canopies can be affordable, especially for smaller businesses.
Business can maximize their space with a canopy.
Canopies offer adequate shade.
Canopies are easy to take down and store and convenient in extreme weather conditions or when moving buildings.
Cons of patio canopies include:
Canopies have fewer aesthetic options making it challenging to match with building designs.
Patio canopies can offer fewer features like cooling and lighting.
Canopy materials can fade over time.
Sail Shades
Some pros of sail shades include:
Shade sails are attached to buildings and can maximize space, especially in small areas.
Shade sails can have more design options than canopies.
Shade sail covers can provide good UV protection.
Some cons of sail shades include:
Shade sails wall cover provides little to no protection from wind and rain.
It can be challenging to regulate heating and cooling underneath shade sails.
Shade sails offer little to no additional features and customizations like lighting.
Shade sails provide minimal protection from insects.
Gazebos
Some pros of gazebos include the following:
Gazebos are often stand-alone structures, allowing you to place them in multiple areas.
Many people can fit under a gazebo cover structure.
Standard gazebos can be affordable patio cover options.
Some cons of gazebos include:
Gazebos' detached and open entry structure provides little protection from the elements.
Gazebos can be less durable in various weather like wind and rain.
Investing in a custom or bespoke gazebo can be costly.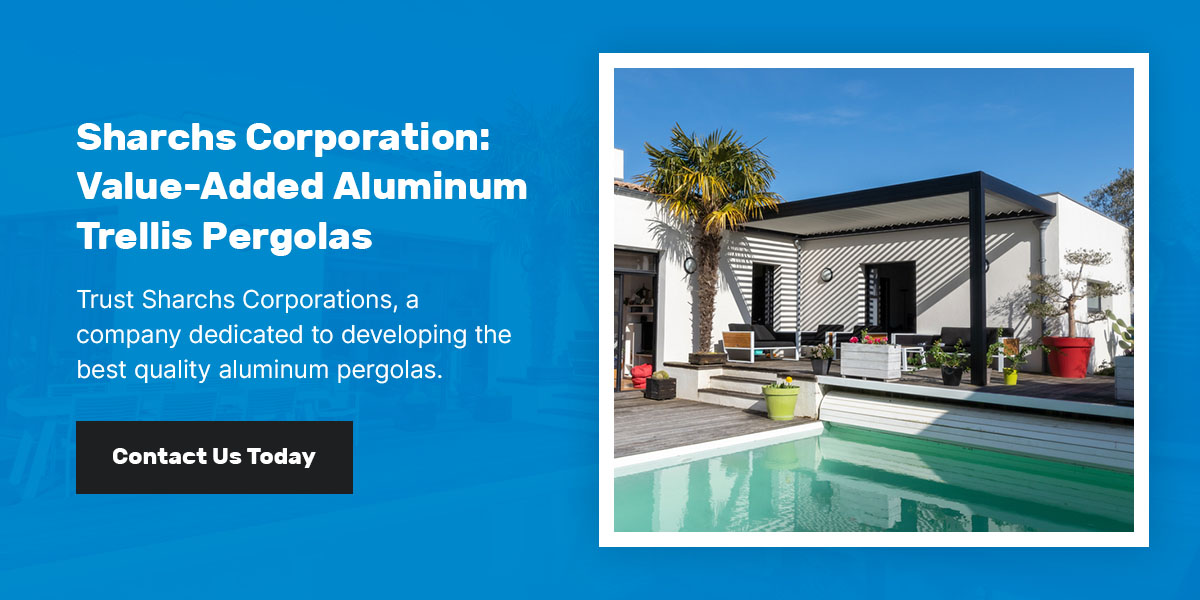 Sharchs Corporation: Value-Added Aluminum Trellis Pergolas
Do you want an aluminum trellis pergola that will add value to your business and property? Trust Sharchs Corporations, a company dedicated to developing the best quality aluminum pergolas. We offer excellent customer experience, trustworthy and reliable services, short lead times, expert aluminum sunshade designs, and manufacturing.
Contact Sharchs Corporation to get started today.