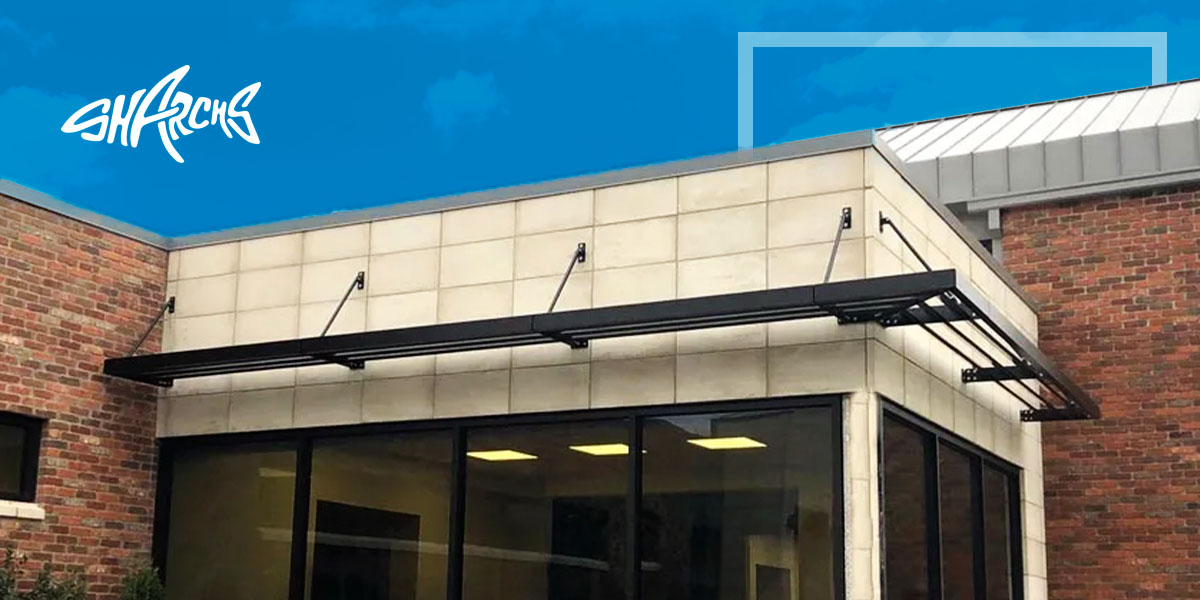 Do you want to enhance your building's value? Consider your building's energy efficiency and use of sustainable building construction materials and refurbishments. Energy-efficient buildings are becoming more appealing for various reasons, like lower internal cooling consumption and eco-friendly compliance. Installing natural cooling solutions like exterior sun control devices can help you enhance your building's energy efficiency, occupant satisfaction and curb appeal.
What Is Sun Shading?
Sun shading is an effective solution for reducing a building's heat gain and internal cooling energy consumption. Sun shading also controls adverse sun effects like sun glare while still providing natural ambient light in buildings.
Sun shading can work by installing exterior sun control devices on buildings. Sun shading devices come in various designs and materials, like aluminum shades.
What Are Exterior Sun Control Devices?
Exterior sun control devices are sun projection structures that can help increase buildings' energy efficiency and enhance the internal environment for occupants. They help block out the sun while providing natural ambient light and warmth. While enhancing buildings' natural cooling, sunshade devices protect building occupants from the sun, improving working and living conditions.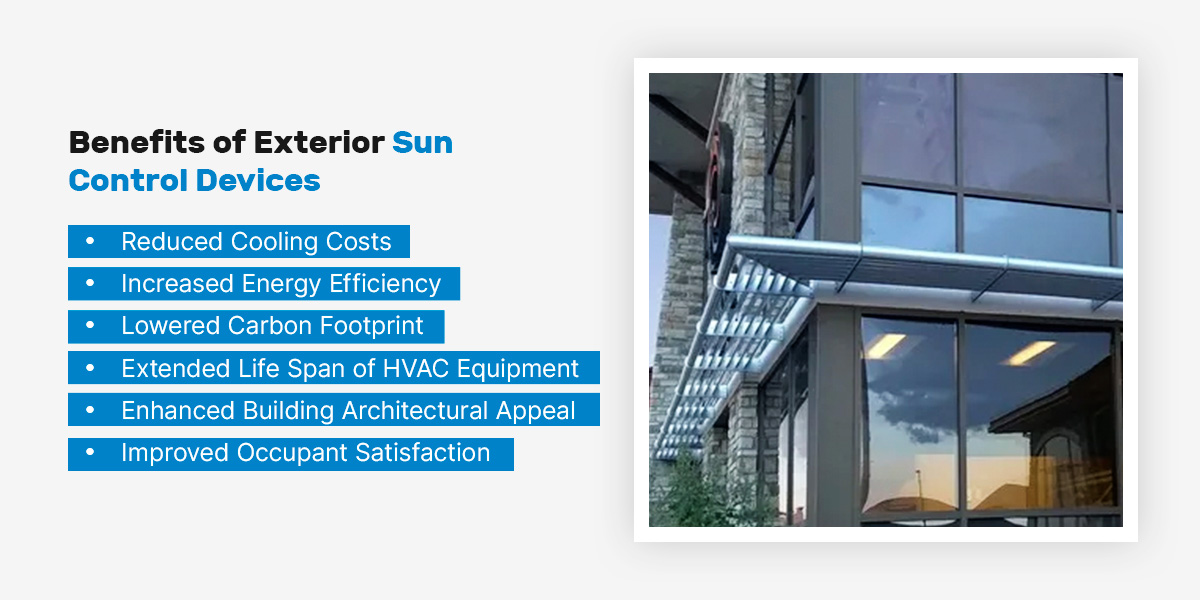 Benefits of Exterior Sun Control Devices
Exterior sun control devices like aluminum sunshades can provide numerous benefits:
Reduced Cooling Costs
Internal cooling devices like heating, ventilation and air conditioning (HVAC) systems can reduce a building's energy consumption and utility bills. Exterior sun control devices can block the sun's rays from entering a building, which can help reduce cooling costs by keeping the interior cooler and reducing the energy needed to maintain a comfortable temperature.
Increased Energy Efficiency
Exterior sun control devices offer a more efficient method of cooling and lighting a building. They help reduce the energy needed to cool and light a building by blocking the sun's rays and providing natural ambient light, making buildings more energy-efficient overall.
Lowered Carbon Footprint
By reducing energy use, exterior sun control devices can help to lower a building's carbon footprint, making it a more sustainable and environmentally friendly option. Building owners or architects that install sustainable cooling systems like aluminum sunshade devices can also earn LEED certification for buildings. Buildings can accumulate LEED points based on various factors:
Energy and atmosphere: The building must be energy-efficient and provide occupants with quality indoor air.
Materials and resources: The building must use sustainable building construction materials.
Environmental quality: The building improves indoor air quality and natural lighting for occupants.
Extended Life Span of HVAC Equipment
By reducing the amount of time that HVAC equipment needs to run, exterior sun control devices can help extend the life span of the equipment, reducing maintenance and replacement costs over time.
Enhanced Building Architectural Appeal
By installing sun control devices like aluminum sunshades, architects and building owners can make buildings more energy efficient while enhancing structural style and design. Buildings with sustainable and attractive designs can have higher property values.
Improved Occupant Satisfaction
By installing sun control or sun shading devices, buildings can offer a more satisfactory living and working environment for occupants. Sun control devices help control sun effects like glare and contrast ratios, reducing eye strain and keeping indoor temperatures cooler.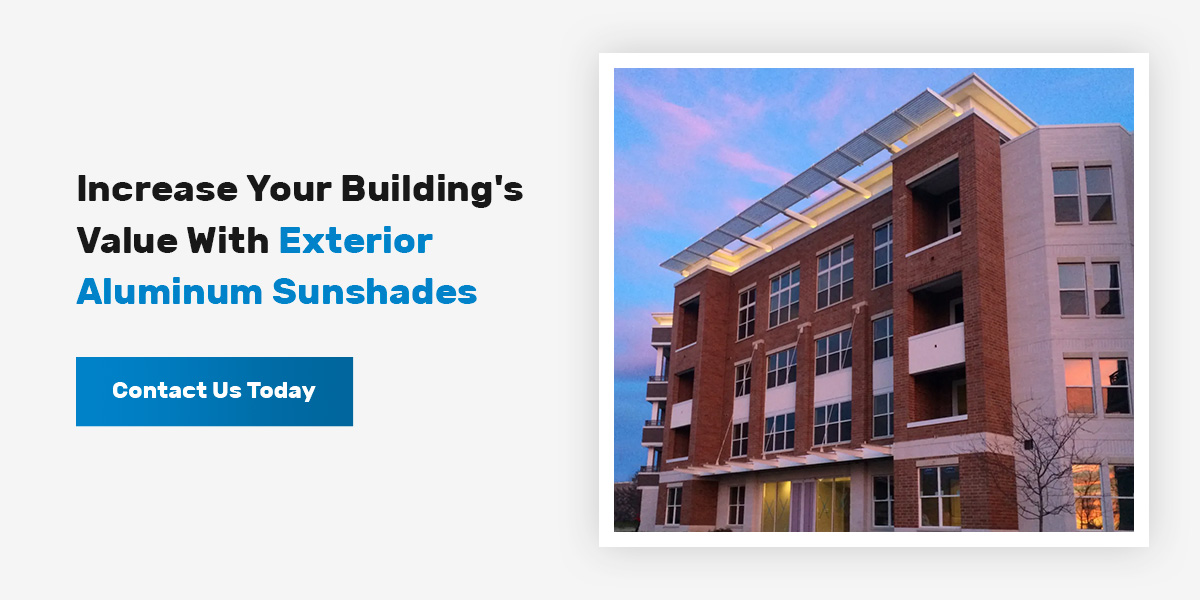 Increase Your Building's Value With Exterior Aluminum Sunshades
Sun control devices like exterior aluminum sunshades can be a valuable investment for your building. Installing exterior sunshades can enhance your building's sustainability score without compromising your structural style and design. With sustainable and attractive building architecture, you can increase your property value and return on investment.
Sharchs Corporation provides and installs various exterior aluminum sunshade models tailored to your building's structural design and requirements. With over 25 years of industry experience, we can help you improve your building's energy efficiency and structural appearance. Our professionals deliver quality and expert services and will help every step of the way when installing your exterior aluminum sunshades.
Contact Sharchs Corporation to get started today.