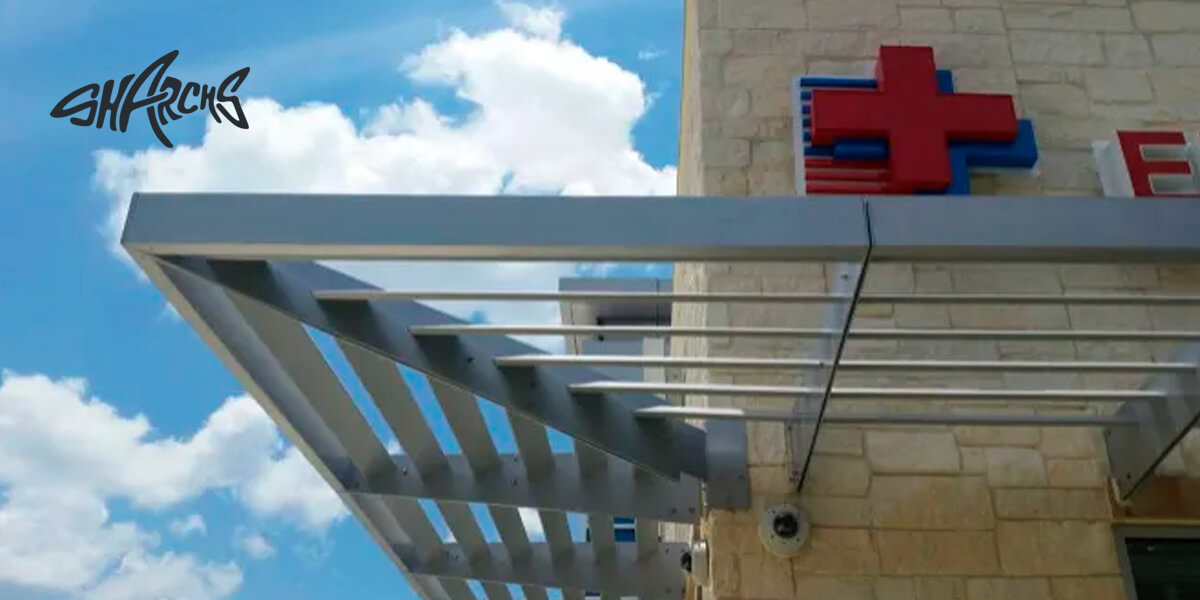 Aluminum sunshades and canopies are popular for commercial buildings of all shapes and sizes. Businesses that understand the benefits of sunshades and canopies can make the most out of investing in them. Knowing the most common places sunshades and canopies are installed and why businesses use them is the key to figuring out their full value.
4 Benefits of Architectural Canopies and Aluminum Sunshades
Architectural canopies and aluminum sunshades are more than just an economical shade solution. They can bring other perks and benefits to various commercial buildings and their users. Aluminum sunshades and canopies offer competitive advantages that make stores more noticeable, offices more comfortable and schools more inviting. Here are four of the most significant benefits businesses and other organizations get when investing in aluminum sunshades and architectural canopies.
Curb Appeal and Design
Canopies and aluminum sunshades enhance the curb appeal and design of a commercial building's exterior. Beautiful curb appeal can help attract more attention to a building that serves the public. Curb appeal and the exterior design of commercial buildings are essential in making a positive and meaningful first impression on customers and clients. If your curb appeal is comforting and welcoming, people are more likely to want to visit, and passers-by are more likely to remember your building.
Another key benefit to improving your curb appeal is improved visibility, which can increase the number of customer visits and sales. Canopies and aluminum sunshades add function and charm to the exterior of your commercial building, which customers notice and appreciate.
Customization
Aluminum sunshades and canopies come in many different styles and designs. The right design should complement the entire building and make commercial spaces more visually and aesthetically appealing. Architectural sunshades and canopies offer both function and style. Knowing the different designs you can choose from makes it easier to get the most out of these structures. Here are three of the most common types of aluminum sunshades:
Cantilevered aluminum sunshades: This style of sunshades protect doors and windows from the sun. The cantilevered design eliminates the need for hanger supports, posts or beams, providing a sleek look that enhances the building's appearance. Cantilevered shades and canopies are good at distributing wind and snow loads. Choose from various airfoil or louver blade styles to customize this type even more.
Hanger rod support aluminum sunshades: Architectural sunshades with hanger rod support are similar to cantilevered shades, but they can be longer because they have an additional rod anchoring the top of the shade to the building. Suspended aluminum sunshades can give entryways and windows more coverage. Different styles all provide functional and visually appealing solutions.
Vertical aluminum sunshades: This stylish type of sunshade hang down vertically from an overhang rather than sticking out from the side of a building to offer a clean and modern shading solution. Adjust the blade angles or use perforated metal to create the optimal sunshade for your building.
These style variations make it easier to find the prefabricated aluminum canopies and sunshades that best suit your building while offering functional benefits. If you can't find a prefabricated solution, you can also get a custom canopy or sunshade that works perfectly for your unique situation.
Durability
One of the biggest advantages of aluminum sunshades and canopies is their durability. Metal is a strong and durable building material and is ideal for sunshades. In addition to their dependability, prefabricated aluminum sunshades and canopies are also rust resistant, easy to maintain and available in several finishes to improve their life span even more.
Sustainability
Sustainable design is a hot topic for many businesses and organizations in today's architectural landscape. Prefabricated aluminum canopies and sunshades can help improve your building's sustainability. With their louvered or perforated designs, architectural sunshades and canopies still allow natural light into your building but block the sun's rays at the hottest time of day. They provide an energy-efficient solution to lighting and cooling commercial buildings of all kinds.
4 of the Best Locations for Architectural Sunshades
Describing the benefits of prefabricated sun structures is a valuable way to know what they can contribute to businesses and commercial spaces. By looking at the most common places sunshades and canopies are installed and why they are used so often provides valuable insight. Here are four examples of buildings that commonly have aluminum sunshades and canopies.
Retail Storefronts
Retail storefronts use sunshades and canopies to improve their curb appeal and make the interior more comfortable for employees and customers. Customers are more likely to remember a storefront that captures their attention and is aesthetically pleasing. Sunshades can also encourage repeat customers and retain employees by helping keep the store's interior cooler by blocking out harsh sunlight.
Self-Storage Buildings
Self-storage companies must show they care about the exterior of their buildings to instill a sense of reliability and security. Sunshades and canopies can add a sense of professionalism and authority to a building, helping customers feel comfortable storing their belongings there. Additionally, many storage spaces don't have climate control, so sunshades can protect doorways from the sun and keep interiors cooler.
Other Commercial Real Estate Buildings
Several types of commercial real estate buildings feature canopies and sunshades. Buildings like hospitals, office spaces, cinemas and hotels can all use architectural canopies and sunshades. These organizations can use various styles of canopies and sunshades to enhance their building's aesthetic, complement company logos and colors and appeal to their target audiences. Many people frequent these buildings, so offering sun protection is a good idea. Additionally, aluminum sunshades and canopies are long-lasting, durable structures that are easy to maintain and customize.

Schools and Academic Buildings
Schools and academic buildings often benefit from architectural canopies and sunshades. These organizations also need sustainable and energy-efficient solutions. Aluminum sunshades are a long-lasting, low-maintenance way to shade classrooms and administrative offices without blocking views or doorways.
Contact Sharchs to Add Aluminum Sunshades and Canopies to Your Building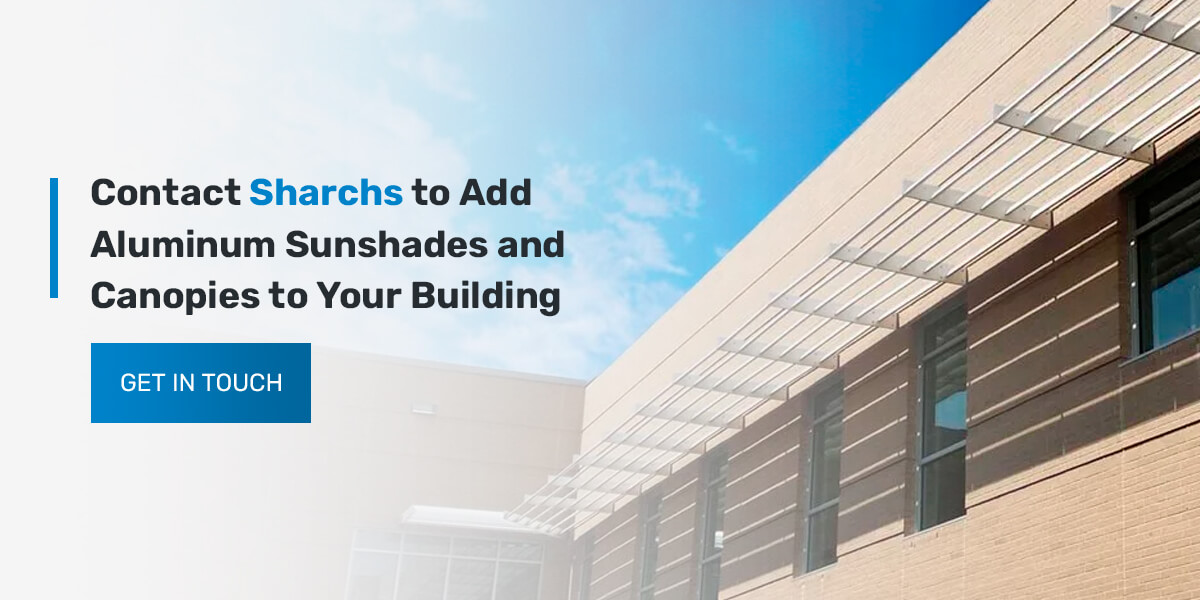 Different types of commercial buildings can benefit from the right style of sunshade or canopy in so many ways. Sharchs can handle all your aluminum sunshade and architectural canopy needs. We can help you get the most out of your shades and find the perfect sunshade and canopy designs for your commercial building. Find out what we can offer your business, or get in touch with us to learn more.