Aluminum sunshades offer many benefits for business owners. Their durable and aesthetic qualities make them an excellent choice for hot summer months. Picture this: it's a scorching Summer's day and your customers have no choice but to stand in the heat while waiting for assistance.
There are many factors to consider in this scenario, but it won't be wrong to say that a sunshade would ensure a better overall experience for your customers.
A shaded storefront or office facade helps create a welcoming atmosphere. If a large portion of your sales come from walk-ins, you definitely should consider methods that can help bring customers into your establishment. One of them is installing aluminum sunshades.
Aluminum Sunshades for Businesses
Aluminum sunshades offer protection from the sun without completely blocking natural light. Sunshades, in general, are made from different materials, like tarps, waterproof fabric, wood, plastic sheets and metal sheets. 
Sharchs Corporation specializes in aluminum, a highly versatile material that makes durable and long-lasting sunshades. We recommend that businesses choose this material because it is low-maintenance, has endless design possibilities and is easy on the eyes. For your convenience, we also offer different types of ready-to-install aluminum sunshades and metal awnings. We can guarantee that money invested in these shades is money well-spent. 
Below are examples of the aluminum sunshades from our catalog that you can use for your office, shop or commercial building.
Types of Aluminum Sunshades for Commercial Use:
Canopies are overhead coverings (traditionally fabric) supported by tall poles. They can have three or more legs, depending on their size and shape. Free-standing canopies, for example, can have three or more poles, while canopies attached to a building can have two or none at all. Canopies can also be suspended, just like the hanging tulle canopies in princess beds. 
Aluminum canopy systems have similar designs, although modern iterations are more often the hanging kind – cantilevered, to be specific. An aluminum frame with parallel bars extends horizontally, attached on one end to the exterior side of the building. For cantilevered aluminum canopies that extend further out, hanger rods that are screwed higher up on the side of the building are necessary to hold them in place.
If you need a fence around your establishment or partitions within your property, consider aluminum equipment screens. These fences can have aluminum sheets or louvers. Aluminum sheets are an ideal choice if you need absolute privacy or restrictive fencing, while louvered screens are helpful if there's a need for ventilation within an enclosed space. 
You can use louvered aluminum equipment screens around generators and heavy machinery because they can withstand the waste heat, allow air to pass through and keep the machines from overheating. They are also suitable for rooftops because they can be high enough to prevent accidents and are more resilient against strong winds than solid aluminum panels.
Enhance the facade of your building with aluminum trellis systems. The open framework – versatile and customizable – creates a modern, industrial look that's trendy among corporate structures. Their purpose is entirely aesthetic, and the aluminum framework cannot offer shade on its own. It can, however, support climbing plants, which give better coverage against the sun and rain. Aluminum trellis systems also support makeshift shading solutions, like fabric canopies and tarps.
If you need adjustable shades over glass walls or open windows, the Bahama shutter sunshades would be an excellent choice. They have short support rods on either side, which props the entire aluminum shutter frame at an angle. As a result, the shade offers maximum sun protection, even though the slats are permanently open.
The Bahama shutter sunshades are very charming and will fit perfectly in establishments with a nautical or small-town theme. They are also practical as they keep away the scorching sunshine without blocking airflow or your line of sight.
Post supported walkway covers are excellent for hospitality businesses, food establishments, public arcades and any establishment that offers outdoor seating or dining amenities. The shaded walkways invite customers to go outside to check out the waiting attractions and features. They are also convenient for everybody: customers won't scramble to get back inside if there's a sudden downpour, for example.
Custom aluminum shades can potentially offer the best coverage for your establishment and look exactly the way you want them to. Opt for custom aluminum fabrication if the pre-made canopies and shades don't match your needs and style preferences. You can incorporate design elements from the other types of aluminum sunshades, like louvers or shutters and hanging rods or support rods. 
While we're on the topic of fabrication, you may want to consider custom-designing sunshades for glazing. They are essentially sunshades from aluminum canopy systems but with attachments for curtain wall systems. They are perfect for buildings with exterior glass walls, especially if the room is an office, conference hall or any space that requires privacy. 
Other uses for the curtain wall feature include protecting your establishment's interiors from sun exposure, moderating indoor temperatures with the added insulation and reducing sound pollution.
Typical installation tabs are not examples of sunshades, but are essential components of canopy systems. They are heavy-duty aluminum anchors with long, industrial screws that burrow deep into building walls. They can penetrate most concrete wall materials, including hollow blocks, solid concrete and stone. These tabs are crucial for keeping cantilevered and hanging aluminum sunshades steady and firmly mounted on a building facade.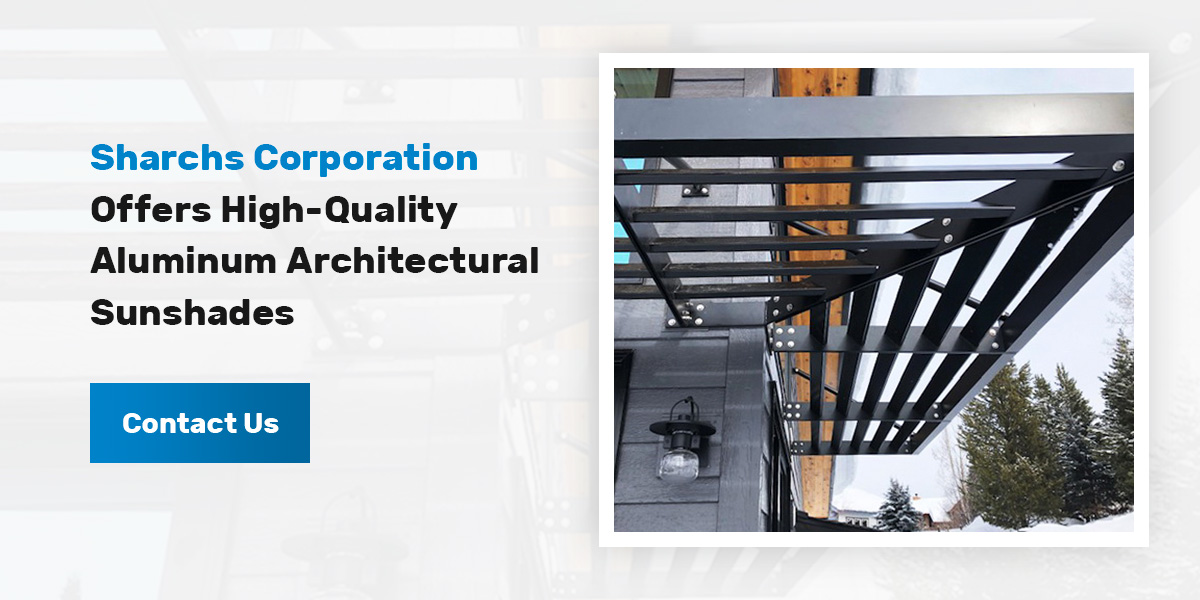 A Value-Adding Feature to Brick-and-Mortar Businesses
Sunshades can bring businesses long-term value with their aesthetic and practical functions. Our aluminum sunshades, in particular, enhance structural facades while offering protection against sun exposure. Installing storefront awnings, door awnings or window awnings shows your consideration of the needs of your customers, employees and the wider public. This simple gesture can go a long way towards boosting your reputation and earning people's trust.
Sharchs Corporation provides and installs high-quality aluminum sunshades for commercial buildings to apartment complexes. We have helped many businesses improve their curb appeal and enjoy other benefits that come with our dynamic aluminum sunshades. You can enjoy these perks as well – and it starts with a call.
Get in touch with Sharchs Corporation for a quote or call (866) 666.4505 today!